Choose Your Level of Protection
DeskShield Types and Comparisons

DeskShield Clear Protector
The TopShield Clear Protector was designed to add an extra layer of protection to our sustainable bamboo and rubberwood desktops while adding a "wet-polish" like finish. Precision cut from 6-mil automotive-grade vinyl, the TopShield will defend against even the most brutal workload abuse, from scratches, dings, and even water damage. Easy to install and remove for replacement when worn, the TopShield Clear Protector will keep your desktop surface like new, shielded around the clock.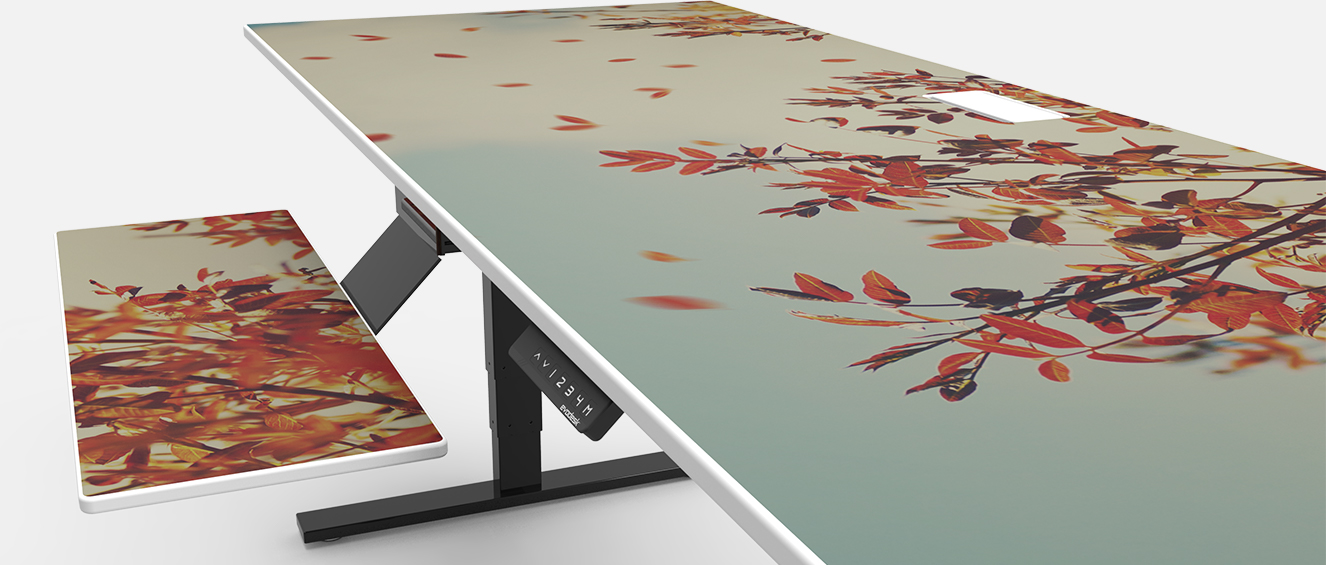 DeskShield Designer Skins
Protect your desktop with a beautiful, high-resolution design. Choose from hundreds of design options to make your Evodesk uniquely yours. Printed on premium-grade automotive cast vinyl at an incredible 1440 DPI resolution and CNC cut to .5mm tolerance. Plus, alignment and installation are simplified by air-channel adhesives that minimize bubble and imperfection.
"No need for photo frames when your entire desktop is covered by the latest family picture."

"DeskShields make standing desks both functional and decorative."

"It was only a matter of time. After years of being able to customize your phone and computer casing with personalized skins, you can now do the same with your office desk."

"[This] new product allows us to gussy up our desks."

"[DeskShields are] a durable second skin that envelops the desk with a wide selection of photos and patterns to keep creatives happy and productive."

Also Featured in




Top
Shield™
The DeskShield TopShield™ is a .005-inch thick premium grade vinyl professionally printed and perfectly cut to fit the top of your desk with a .25MM tolerance.
.005-inch thick premium grade vinyl
Protective laminate coating
Desktop surface coverage
Natural desk edge exposed
Easy, in-home application

(factory application also available)

Residue-free removal
Choose from New Skins Added Daily or Order Custom!

Uniquely Yours
Turn your desk into a surface like no one else's. Rare woods that can't be bought, splinter-free reclaimed wood, custom patterns, or family pictures. The possibilities are endless—and wouldn't be possible without DeskShield.

Go Natural
Choose from rare rainforest woods that can't be bought, or that vintage, reclaimed wood look you love without the splinters.

Team Pride
If you're a true fan, there's no such thing as too much team memorabilia. Find your favorite team in our wide selection of sports images, or create your own.

Destination: Desk
You can't always be at your favorite beach, city, or scene, but with a custom DeskShield, your dream trip doesn't have to seem so far away.

Nature Prints
Fresh flowers are always in bloom with a Nature DeskShield. Choose from tropical flowers, pineapples, garden scenes, and more that are so beautiful, you can almost smell them.

Geometric Patterns
Choose a print that delivers the perfect vibe to your desk space. Our variety of colorful, calming, or energetic prints are sure to help you get in the right mindset each day.

A Personal Touch
Showcase your most cherished memories from family portraits to unforgettable vacation experiences in rich, high-definition, and full-color imagery.

Design Your Own!
Customize your DeskShield with a design of your very own! Our design specialists will ensure your quality is preserved along with your desktop.
Special Offer
Evolve Today.

Pay Later.
With PayPal® Credit® you can bring home EvoDesk today with No Payments and No Interest for 6 months*
Learn More ›
Shop Now ›

Join Our Mailing List for
Special

Offers & Promotions

Private. Secure. Spam-Free.