You might be thinking, "Why would I invest in a standing desk when I am a perfectly capable DIYer?" Well, just because you did a fabulous job fixing that drawer in your dresser or have never in your life hit your thumb with a hammer, it's still probably not a good idea to DIY a standing desk for your office. Here's why.
Most DIY Standing Desks Are Unstable
Let's think about what you're risking here. Most likely, your desktop holds thousands of dollars worth of hardware, meaning your job, your business, etc. are literally balancing on that rickety pile of books. We know it seems like the best use for your old college textbooks or those phone books that (for whatever reason) are still being delivered, but please, for the love of your electronics, reconsider.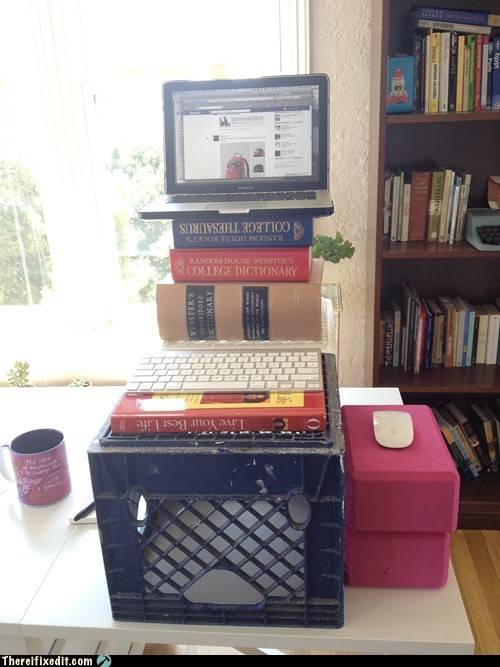 If you bought a protection plan for your laptop or generally care about the well-being of your computer, why would you rely on a JENGA® tower as your work surface?
Most DIY Standing Desks Can't Go Up And Down
If you reach for the nearest stackable materials to lift your work space to standing height, chances are it's not going to be easy to adjust. It's important to be able to adjust your desk height, because the secret to reaping the health benefits of a standing desk isn't just standing all day–it's simply adding movement into your life. This means moving from sitting to standing to sitting periodically. In fact, Cornell University recommends a 20-8-2 rule to balance the amount of time you spend sitting and standing. Plus, an adjustable-height desk will save you from having to restructure every time you get a craving for a soda.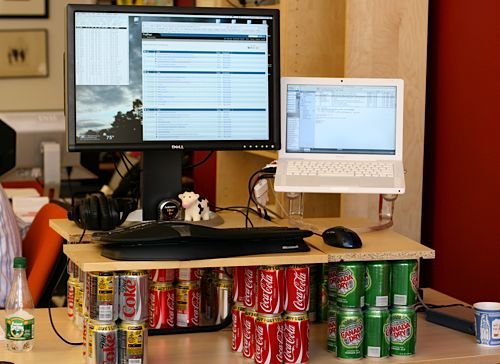 Most DIY Standing Desks Aren't Ergonomically Adjusted
Standing doesn't do your body any good if your posture is bad. An ergonomically adjusted desk should lift your monitor screen to your eye line, and your elbows should rest at a comfortable 90-degree angle with your wrists floating about your keyboard. If you have to look down at your monitor, you're likely to develop a stiff neck. And a keyboard that is even slightly too high or low can cause your wrists and forearms to ache. An average person would probably need 1.5 to 2 of these Pringles cans to reach their ergonomic height, and, well, refer back to the first point.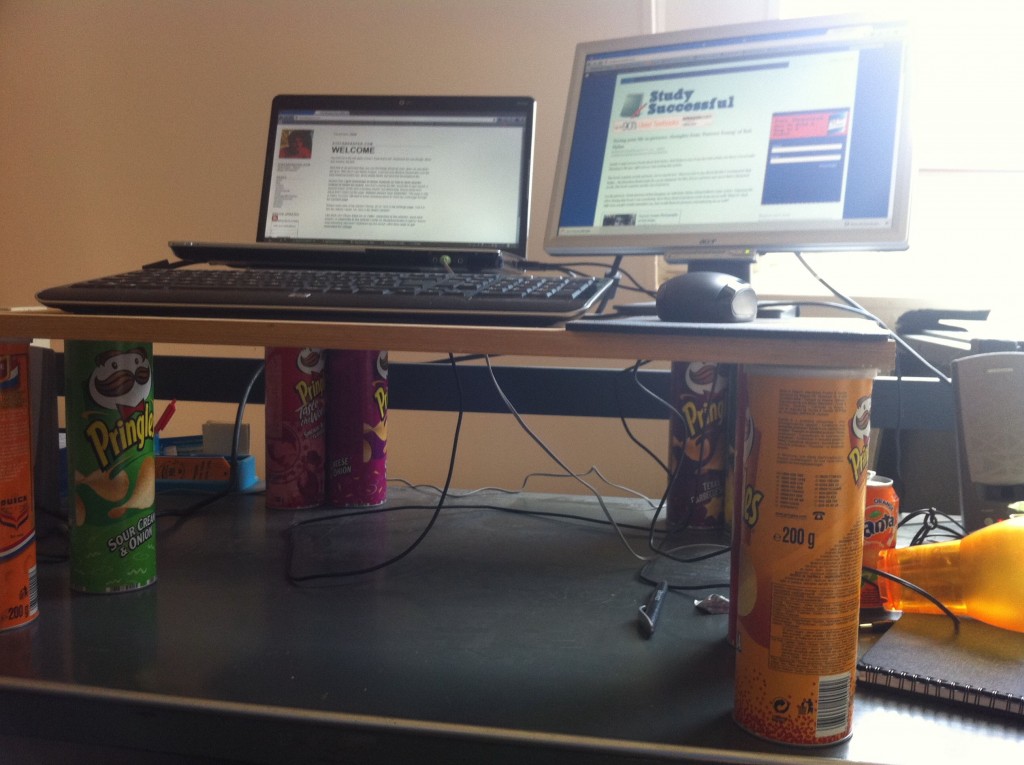 Most DIY Standing Desks Look DIY'ed
Maybe you don't care too much about aesthetics, but there really is something to be said about having a workstation that is neat and tidy. Sure your milk crate/cardboard box/stacked book set up may kind of work, but more than likely it just looks cheap and messy. Studies have shown that orderly desktops not only help you stay focused, but they can also prevent illness because it's easier to keep clean from dust and germs.
Most DIY Standing Desks Can't Handle Attachments
Part of the appeal of having a mobile workstation is that your whole work space raises with you. Take a look at those images above again. Would you really want to risk mounting two monitors on those chip cans? And where are you going to fit your CPU amidst those books? An adjustable height desk like an Evodesk offers you enough space and stability to support whatever you want to keep on your desktop. No shakiness to worry about or struggling to fit your accessories.
Why You Should Invest in An Adjustable Height Desk
An adjustable height desk such as the Evodesk is really the best way to go for your health if you're looking to add life enhancing movement into your workday. With soft touch buttons that effortlessly lift and lower the desk to your programmed ergonomic heights and enough desktop surface area to support just about any workspace set up, it's easy to enjoy all the benefits a standing desk has to offer. Plus, Evodesk offers several customization options from materials, colors, accessories, and even protective printed DeskShields to make your desktop unique to you. Click here  to start building your customized Evodesk now!