Mattel has been making some big changes to Barbie recently, and to many people, it's about time. This year alone, there will be curvy, tall, and petite body types available along with different jobs. When I saw the "Spy Squad" group, I couldn't help but think of the #WhereIsBlackWidow campaign and that Mattel was listening. Well done, Barbie. So now we move on to the next barrier Barbie is set to overcome, the gaming industry. And she comes complete with a standing desk!
Game Developer Barbie Has A Standing Desk
Barbie is keyed in to what's new: from the awesome job to the healthier standing desk… or in this case a blue cylinder.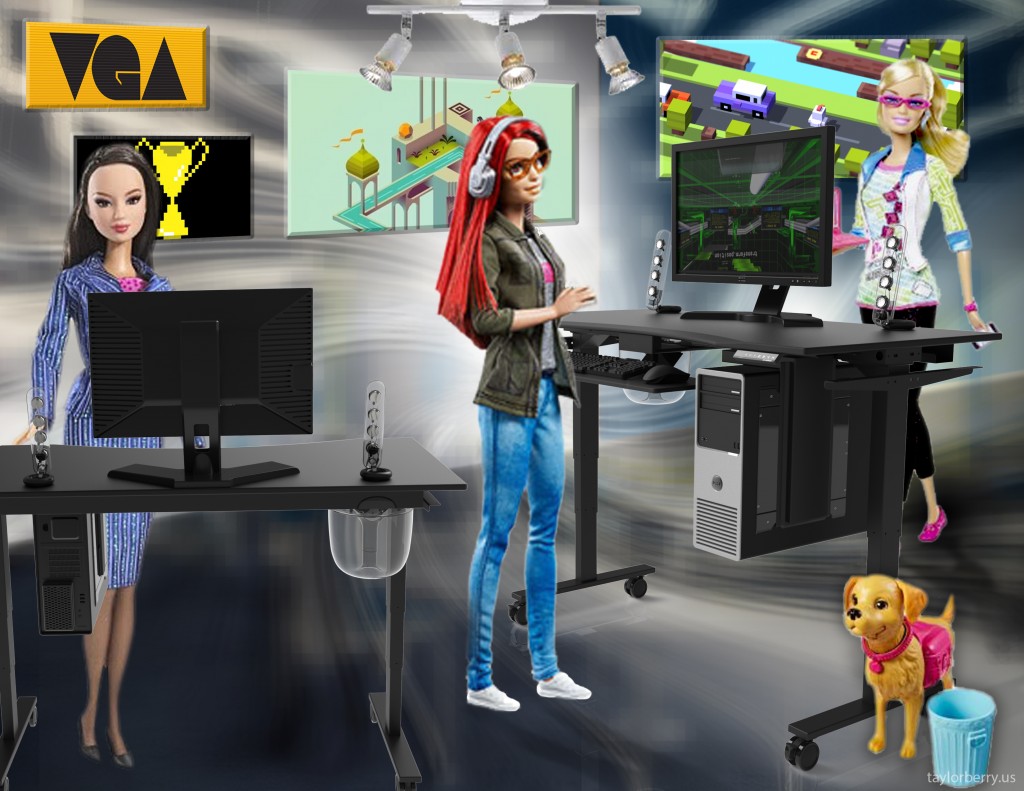 My friend, who is a woman in the gaming industry, believes that a Game Developer Barbie is awesome. In fact, she strikes an eerie resemblance with glasses and bright red hair. As one of very few women in her field (and the only one at several companies she worked for), this Barbie job could show girls that they don't need Brian and Steven to be a girl gamer.
If you don't remember, last year there was a big backslash from computer engineer Barbie. In a book that has since been discontinued, there were instances like this that made readers cringe.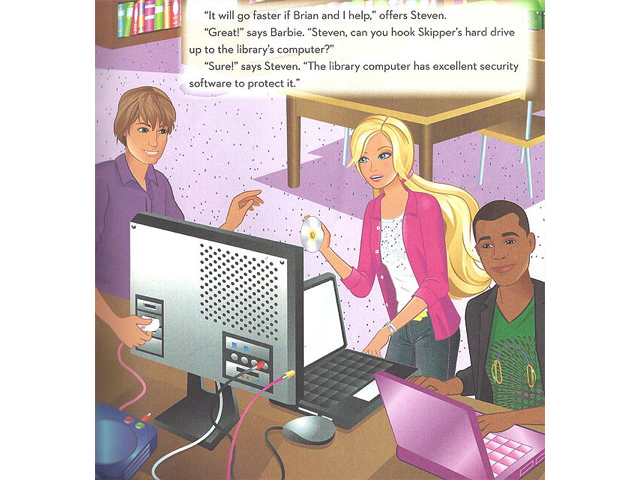 The text says:
"It will go faster if Brian and I help," offers Steven.
While sure, three people can be faster than one, readers wondered, did it have to be two men stepping in and taking over? After, Mattel released an apology saying, "The portrayal of Barbie in this specific story doesn't reflect the Brand's vision for what Barbie stands for." In the end, Feminist Hacker Barbie called on people to make new text for the book giving her more skills.
Because of the misstep, this is Barbie's second chance at entering the tech world. With all of the encouraging changes that Barbie has already made, we are confident that this will be a huge success. As a bonus, her standing desk accessory is on point (although we may be a bit biased).
One website is already asking for images of Game Developer Barbie in the real world, and despite the trolls, my personal favorite is  from DistractedObserver.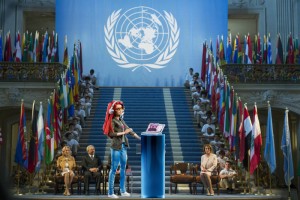 The caption explains that since Game Developer Barbie's first game will put an end to cyber bullying, the United Nations wants to help. Now that sounds like an awesome playtime scenario:
"Hey Barbie, want to pick out shoes?"
"Sure, after I crush this impassioned speech to the U.N."
"Cool!"
And at Evodesk, we couldn't help ourselves. Presenting (drum roll)…
Game Developer Barbie And Her Evodesk Standing Desk!
While the blue pillar is very pretty, at Evodesk we wanted to give her a more functional sit stand desk that is better for her plastic health and comfort. She may not be able to bend her legs for the right ergonomic position while sitting, but you get the idea. Plus the EvoGuard standing desk surface will help her have superior mouse precision while she is developing and coding. And as many people noted, how can she work on game development with such a tiny laptop? So with the Evodesk standing desk, she can attach multiple monitors for maximum efficiency. And we made her office adorably dog friendly.
Plus with the hashtag #thedollevolves, how could she not go hand-in-hand with Evodesk? We do say to "join the standing desk evolution."
While the Barbie version of the Evodesk standing desk may not be real, the people-sized version is! Check out all of the different configurations and don't be left behind. Barbie is quickly catching up with the times, so why don't you evolve like Barbie?