Our engineers came into work to find something that they never dreamed possible: the Evodesk standing desk had become self-aware!
The story may seem unbelievable.
At Evodesk, we credit ourselves with helping the desk evolve into a customizable and amazing standing desk. However, science took over and our standing desk took the next evolutionary leap all on its own. Here is an account from our engineer Shane:
"I came in and there it was. The Evodesk standing desk was just looking at me with these incredible eyes and I stopped in my tracks. I mean [voice breaks] how are you prepared to see the next stage in standing desk evolution?"
Our legal team states that I have to warn you about what you are about it see. If you continue to scroll you will see the self-aware Evodesk standing desk. We must warn you, this may be a shock.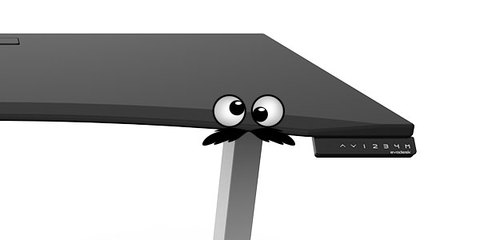 We know. It is intense. Much like the discovery of the ninja lanternshark and the ongoing studies to find Planet X, this is a vast universe that still manages to produce surprises and wonder: like the self-aware Evodesk standing desk.
We are still trying to understand everything that happened to make the Evodesk standing desk evolve, but this may take years of testing. In the meantime, you can still purchase our non-self-aware Evodesk standing desks.
While they don't greet you in the morning with warm, thoughtful eyes, you can still program them to rise and lower to your perfect ergonomic heights for sitting or standing. You can also choose from over 200,000 unique combinations of features and styles for the perfect standing-desk adaptation for you. That is pretty amazing in and of itself. And starting at only $599, it's truly evolutionary.
Plus if you really want to, just add googly eyes for a couple of bucks, or class up your standing desk with a monocle or tiny top hat.